When it comes to designing an expertly curated space, the devil is in the detail. Few of us realize that the immaculate looking homes featured in magazines are far from a reality. To achieve that magazine perfect look, there's more work that meets the eye. Furniture is moved to fit the frame of each shot perfectly, a whole team of experts style each element with the most intricate detail and accessories are brought in by the truckload. Anything outside the shot? Well, that simply doesn't matter because it's not seen! 
Nevertheless, whilst you needn't pressure yourself into reaching those often impractical standards, it doesn't hurt to adopt a few tricks of the trade to improve the look of your own home. There are a handful of styling tips that professional interior designers swear by, and we're going to share with you some of our favourites that are easy to implement, at low cost and can instantly elevate your space. Since we are all spending more time in our homes than ever, what better time to give some of these a go?
Declutter
First: declutter. Too much 'stuff' will cheapen the overall look of your home. Use this time to have a spring clean, clear out any unnecessary or unwanted items, get organized and straighten up the areas that get most crowded. Not only will this clear your physical space, but your mental headspace too. After all, decluttering has proven to boost your health and well-being. Coffee tables, sideboards, shelving units and office desks are great places to start.
The power of symmetry
In times of uncertainty, maintaining structure and order at home provides the consistency and reassurance we need. Using symmetry when displaying items or re-arranging furniture and soft furnishings will help to reinforce a feeling of comfort and balance. At Mon Interiors we often work with symmetry; then add something a little 'off' or unexpected for visual interest. 
Get arty
Incorporating artwork into your home is a must for a pulled together look and it's the number one tool to make a room look more expensive. Choosing the right frame for your artwork is key. Well-framed artwork has the ability to stand alone with need for little else. Opt for glare-proof glass for framed pieces. Whilst large pieces form the perfect focal point, smaller pieces are a great way to draw attention to a specific area within a room. If you have a little more time on your hands than usual right now, why not try getting creative? Relieve some stress and tap into your flow with  your very own bespoke artwork.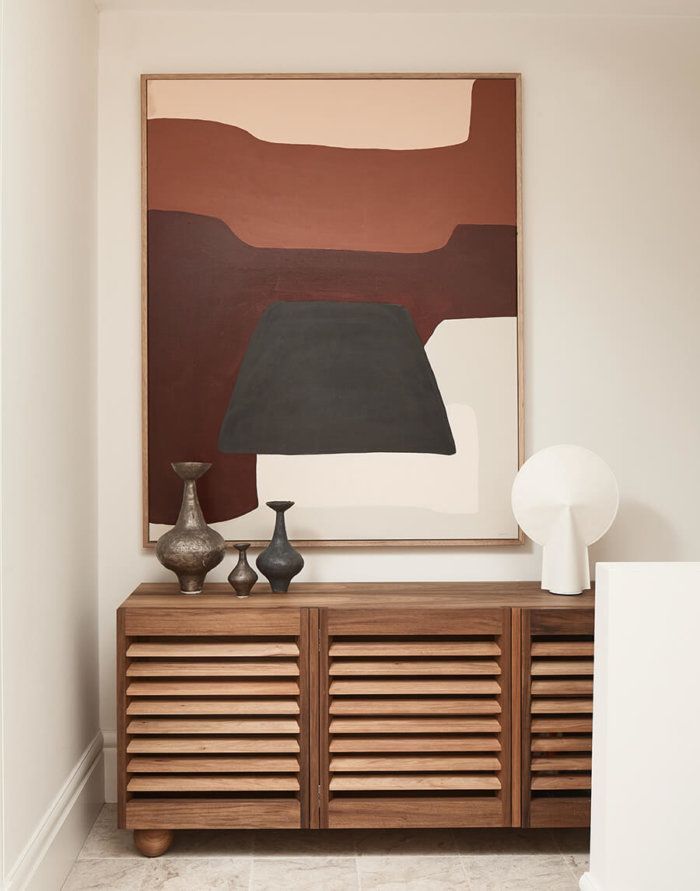 Bring nature inside
Maybe a little controversial but design-wise, shop vases with pre-arranged florals are rarely attractive in their own right. Spending time in nature is scientifically proven to restore mental energy, reduce stress and improve concentration. Try using your daily exercise as an opportunity to take a walk on the wild side and forage your very own flowers or foliage to bring that positivity indoors. Find an interesting object that can be used as a vase and get creative with the arrangement. 
Re-style your shelves/bookcase
A house isn't a home if not filled with books and we all know how popular the perfect shelfie is over on Instagram nowadays! A bookcase or shelving should be fully functional, yet stylish. Avoid curating a cluttered mess by clearing your shelf space completely and start with a blank canvas. Begin with teaming objects together in groups of two or three. Think about varying heights, colours and materials. Then think about where each group will sit on the book shelf. If something is missing from a shot, books are always the answer. Begin to stack your shelving, paying special attention to balance and know when to stop!
Utilize unique objects
Objects matter. They bring form, texture and identity to a space. Focus on pieces that have sentimental value or that you find truly beautiful. One simple object often has the power to embody an entire experience, reflect your personality and bring authenticity to a space. We love to incorporate sculptural pieces, ceramics, candles and books.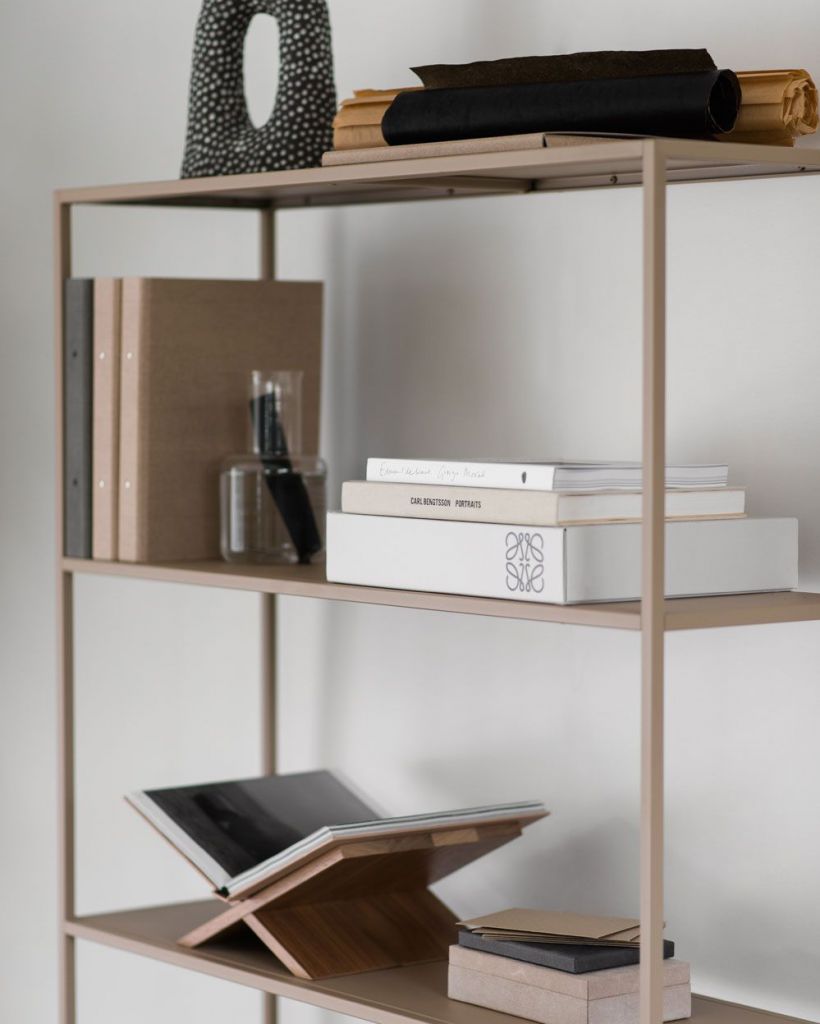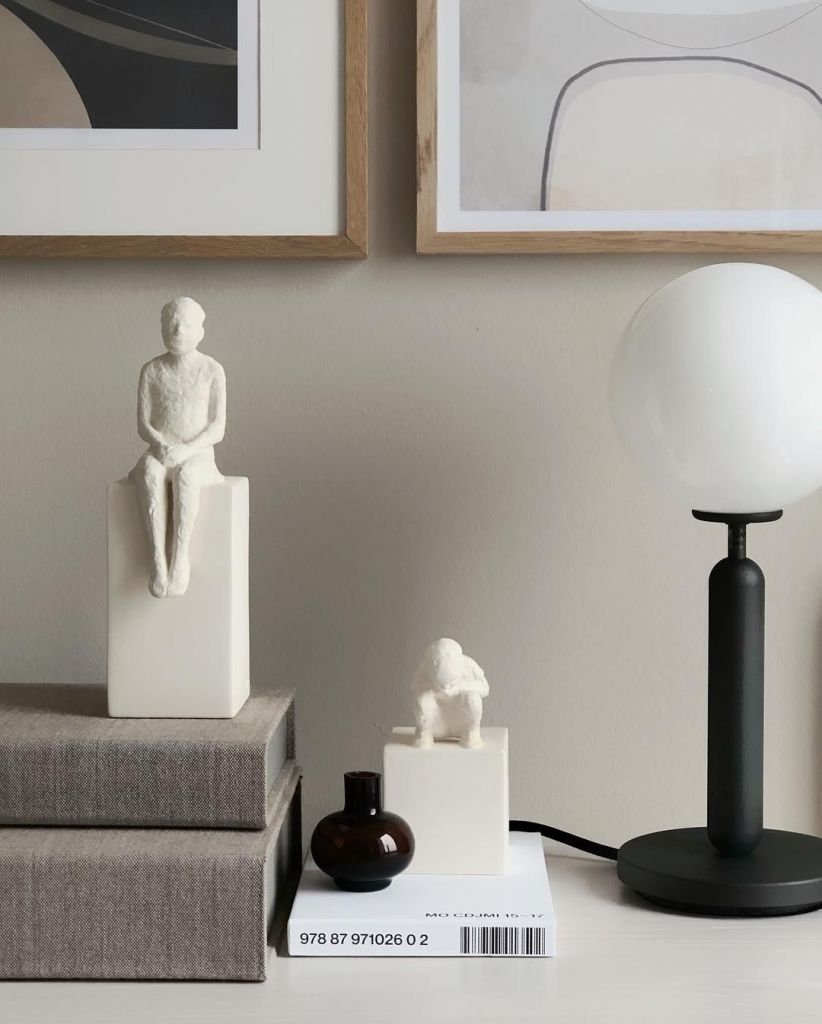 Find your light
The lighting situation in any room within your home should be both calming and comforting. Rely on natural light where you can and use strategically placed mirrors and carefully chosen colours schemes to accentuate this. Where artificial light applies, fluorescent light is harsh and unflattering. Replace any harsh bulbs with softer, warm white bulbs to cast a flattering glow and create an inviting environment. Warm whites give the illusion of longer days and sunlight. Ambient lighting is important too. Layer two or three light sources at various levels in the room, using floor lamps if wall-lights aren't present.
Go wireless
When replacing any technology, try and go wireless and wall mount your TV. This will help create a sleek, organised environment. Where wireless technology isn't possible, consider strategically hiding any wires by using tape or cable ties to reduce visibility. 
Embrace Imperfection
Your space should feel natural – not over-designed. Pick timeless pieces you love over trends. As yourself these three questions when you choose an object to style with: is it functional? Is it beautiful? Is it timeless?
We'd love to see you implant these simple interior styling tips. Why not tag us using @moninteriorsuk over on Instagram. We'll repost our favourites!